As you are probably aware, construction on Belding Rd/M-44 is in full swing. The signs on Northland Dr/Wolverine Blvd say that Courtland Dr will be closed at Belding Rd starting Wednesday, April 26th. It appears that the Courtland closure is only planned for 4 days.
Belding Rd will close to through traffic (Wolverine Blvd to Meyers Lake Rd) starting Monday, May 1st. Please refer to the detour routes below until everything reopens.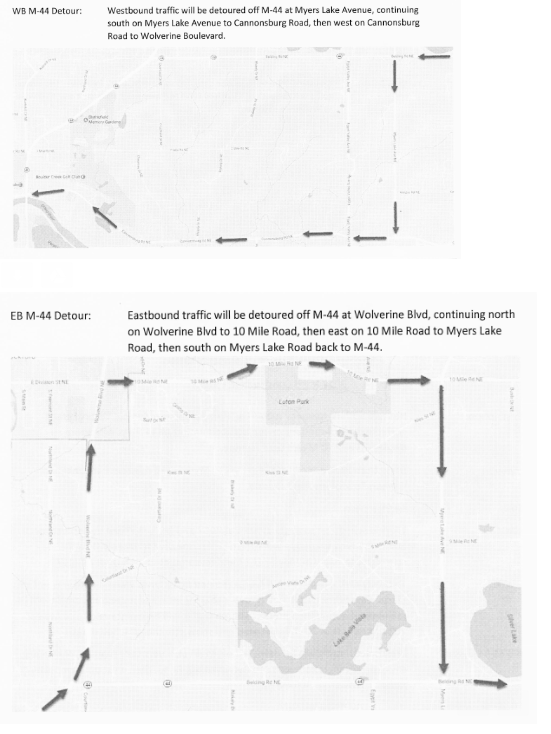 ~~~~~~~~~~~~~~~~~~~~~~~~~~~~~~~~~~~~~~~~~~~~~~~~~~~~~~~~~~~~~~~~~~~~~~~~~~~~~~~~~~
ChiroHealth provides world class care in a world class environment as a Grand Rapids Chiropractor & Wellness Center. Offering chiropractic care, massage therapy, nutritional supplements, and much more. We are your partner in health and wellness! We want to walk with you on your path to better health inside and out.
Conveniently located off Wolverine Blvd. (East Beltline), just north of Grand Rapids in Rockford, MI, our team of licensed Chiropractors, licensed Massage Therapists, and assisting staff  is committed to bringing you a healthier lifestyle and a more fulfilling, rewarding life.
"Observational study found that low back pain patients receiving chiropractic care, which typically includes spinal manipulation, are more satisfied than those receiving medical care."
-New England Journal of Medicine
For more information or to schedule an appointment with our Grand Rapids Chiropractor, call (616) 863-9482 today! Or submit a request here.
At ChiroHealth, our approach to health and wellness is simple. We believe that chiropractic care, massage therapy, nutrition, and exercise complement each other to regain and maintain a healthy way of life. From education to action, we will work with you to develop an individualized health and wellness program that will help you achieve your goals.
Our patients at ChiroHealth Rockford are cared for with the latest chiropractic methods, assuring you quality wellness care with the utmost safety. We invite you to explore our website, meet our team of chiropractors , massage therapists, and nutritional consultant to learn for yourself the long lasting health benefits our services.
Your Grand Rapids Chiropractor & Wellness Center
Webster Technique Certified Doctor
eStim Therapy
Ultrasound Therapy
If you are new to seeing a chiropractor and want to find out more, please email us or call (616) 863-9482 to receive personalized answers to your questions from our friendly team. If you were referred here by a friend, we would love to know that as well.
If you would like to stay informed about modern chiropractic care or if you want to start receiving free articles about health and wellness news, please subscribe to our newsletter for blog updates – even if you are not a patient.